Walk In Interview 2022 :
How to all set for the Walk In interview?
Are you preparing for your walk in interview? Are you feeling a bit nervous at this moment?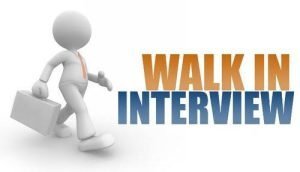 If yes, just get relaxed as we are here with the detailed guide that will help you in preparing for your walk in interview. A interview is an open interview where a candidate can simply walk-into it without taking an appointment. These interviews are usually open for everyone. The interviews are generally scheduled by the different organizations on the selected dates and time slots. interview help the employers for screening the candidates initially. The shortlisted candidates are being contacted usually for further rounds. If you are really worried about your interviews and are just thinking about the tips that can make it perfect, just check out the ones we have mentioned to you below:
Go through the company details perfectly :
The very first thing you need to do while going out for a walk in interview is getting the exact details of the related company. Heading towards the interviewer without reading about the company details can lead you to trouble. The majority of the company's today are available online and that makes the candidates quite easier to get the related details. You just need to go through the company's website and then have to understand the nature of the work properly.
Make sure you have gone through the 'About us' or 'Who we are' section thoroughly so that you can get a better idea about the background of the company. Adding more to it social media presence of the company also plays a very important role in knowing about that particular organization in deep.
Check out the common interview questions :
One needs to prepare themselves perfectly before moving ahead with the walk-in interviews. You can create a list of the most common interview questions and then can prepare with their answers later. It will help you out in boosting up your confidence level and will surely add up some more into your overall impression as well. If you seriously don't know what exactly are the most common questions that the interviewers ask, you can check out the different online websites for the same as well.
Have a look at a resume :
A resume is one of the other major aspects of a walk-in interview that puts on a greater impact on the interviewer. A resume includes all of the things you have earned up in your academics afterward. A resume serves as a basis for conversation between you and the interview and helps them in learning about the different things related to you. Make sure to keep up on updating your resume with time and proofread at least once to avoid the chances of making any kind of spelling and grammatical errors before taking out the final print out of it. We would always prefer you to keep the multiple hard copies of the resume always along with you.
Latest Private Jobs 2022 :
Private Jobs on www.itijobs.co Free Apply online of thousand of Private Jobs 2022 for Freshers across India. Get a list of Private Jobs available in Top Companies all over India here. Like Tata Group, Aditya Birla Group, Adani Group, BKT Tires, JBM Group, Mahindra and many more. We provide Private Jobs with all the necessary information such as job title, eligibility, starting, and the last date to apply, pay scale, and so on.
Jobs Near Me For Freshers :
Candidates can get the latest Jobs Near Me For Freshers Jobs 2022 in India from this page. There is a lot of job opportunity for the people those who have completed their ITI, Diploma, BE, B.Tech & Others. Candidates who have been recently completed their studies from college or university are the fresh willing contenders to work as Fresher. Many of the companies are hiring the Jobs Near Me For Freshers aspirants into their organizations by conducting campus drives, walk-ins, etc.